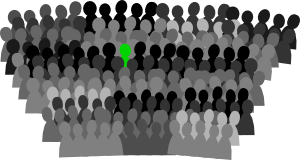 Blend in just enough for better positioning… (Image source: http://tinyurl.com/ohhqkoa)
There are ton of MBA vs. Startup articles out there, and no doubt there are those who have very passionate (if not myopic) views on the subject. Like every other research paper, it's catered to our views. I was even told recently in an interview at a startup that an MBA is largely looked down on in startups. So my view? MBAs suck! No, wait, MBAs are great! No wait…
Does it really matter? Maybe. My view is really that at the end of the day, we make do with what we've got. I've got that little piece of paper with "Master of Business Administration" and my name on it. I've also founded a startup and worked with several others. So maybe I have one of those amazing perspectives cuz I've been on both sides.
At the end of the day, the MBA was a great experience. Learning all these different subjects like Finance, Accounting, Marketing, etc. isn't going to be the real value of the MBA. Instead, it's really about the connections. So if you're like me trying to really solve the aches and pains vis-a-vis B2B technology, it's great to know I have friends and business school connections at companies of all sizes across the world. Essentially, I have some great prospects to ask questions or test out ideas.
At the end of an MBA program, you've got a great foundation of all the major business functions. What's that mean? Well, for one, you know how to talk the talk, walk the walk, you can blend in with the rest of the corporate suits. That then enables you, as an entrepreneur, chameleon-like powers to be able to blend in with potential customers! When we think about customers and how to really sell or even build a product for them, it's all about empathy and credibility.
You can get some empathy points with a corporate client when you know how companies really work. How does pushing that button or pulling that lever in marketing affect operations at the warehouse? How does inventory play in accounting? Big corporations drive the world even though small companies really employee the lion's share of the workforce. (Think how big companies lobby and influence government policies. If small companies worked together…) With that, education is still highly valued in big corporations meaning that little sheet of paper gets you in the door as an employee or as a vendor.
Building a startup is like getting the theory behind the practice. Except, you're also getting the practical lessons. In business school, I learned all these marketing terms, all these little financial models, but when we were building Body Boss, we organically built out the marketing mechanisms. We learned and adapted our sales strategies that was otherwise just talked about in case studies. With Body Boss, we built our own pipeline tracker and indeed, our own crude CRM. We weren't just handed SalesForce at a major company to run with it. We now understand why we tracked various marketing and sales activities and why and how we employed drip marketing. You give us a powerful technology like SalesForce or PipeDrive, and that just becomes an accelerator for us. We've lived and learned from the bottom of theory, and we've lived the practice.
With an MBA as an entrepreneur, I feel that much more Ninja-like
I went into Emory's Goizueta Business Schoolto help augment my otherwise entrepreneurial/ freestyle consulting style with some structured approach. I have no interest in really sticking to one of those extremes of being wholly freestyle and entrepreneurial or highly structured. Instead, I'm trying to adapt a style between the two that fits me. Startups, as they get more successful, are startups for only so long before they feel the pressure of implementing some structure. Facebookis NOT a startup anymore, but credit to them for enabling a culture that still feels entrepreneurial. Other large corporations like IBM, GE, etc. were once startups, too. However, those corporate policies, operations, etc. are adaptations over time to sustain growth and support existing customers. With an MBA and some corporate experience behind you, you get to leverage some structure to the entrepreneurial spirit to get the best of both worlds.
I've seen plenty of people who have MBAs, and they're wallowing in the pits of large corporations. I've seen MBAs be highly successful in startups. Does it all really matter? Nah. Instead, all about the mindset of the individuals and their drive. If you can leverage your background in a way to better understand the world and your market, your employees, your community… you can position yourself to succeed. If anything, I think that's what any opportunity presents you with – positioning. Be it startups, an MBA, a techno-blog write-up, an introduction into a company, or an interview. How will you use your background to succeed? That's how I view it.
How do you think education (and level of) plays a role in your job? What do you think you have in terms of ["requisite"] experience to be entrepreneurial?
http://www.daryllu.com/wp-content/uploads/2018/10/entrepreneurial-ninja_logo_sm.png
0
0
Daryl Lu
http://www.daryllu.com/wp-content/uploads/2018/10/entrepreneurial-ninja_logo_sm.png
Daryl Lu
2014-09-03 13:06:00
2020-12-09 10:18:06
The MBA in a Startup World – It's About Positioning