Entrepreneur's Dilemma: Ready, Fire, Aim… Wait, Hold! No… go!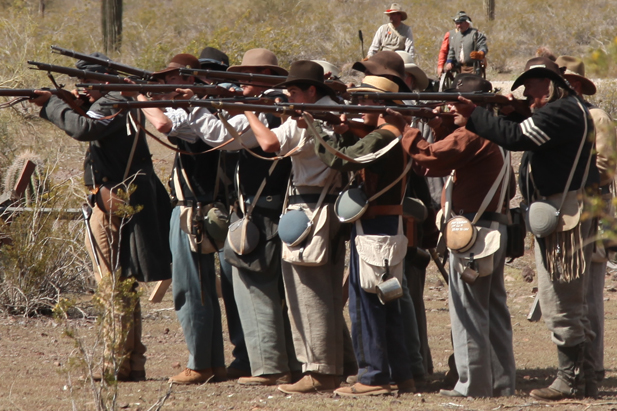 READY? FIRE! AIM… source: https://media.azpm.org/master/image/2012/4/6/2col-ff/civil-war_firing-line_fullframe.jpg
I've long known that I can be impulsive and highly engaged when I'm passionate about something. In one anecdote, I was helping a friend move and we were working on taking apart the bed. I immediately started to remove the screws and bolts until my friend just lifted the frame and showed it was a simpler operation. In startups, I've been hooked on an idea and gone door-to-door that afternoon with businesses to test the idea.
Then more recently, there's the awkward opportunity where I open an email up, and start writing all sorts of incredibly deep, probably overzealous, and yet genuine message. It just so happened to span several hundred words long… whoops! Having a "ready, fire, aim" mentality is dangerous. Being that way at 2AM is a whole other level. As "How I Met Your Mother" showed, "nothing good happens after 2AM".
source: http://media-cache-ec0.pinimg.com/736x/aa/13/77/aa1377e58ebffb0ac2d7a8c0d5594fd5.jpg
I was talking to an entrepreneur buddy recently about my overzealousness, he laughed, and said that it's a common trait amongst entrepreneurs. It can be good, and it can be bad. Some reflections from this most recent experience and how to embrace and mitigate this mentality:
Can Impulse Be Sustainable?

Everyone gets excited about something new from the get-go. However, is that impulse something that you can be excited about for weeks? Months? Years? Building a startup can be fun and in some ways, impulsive. However, the stamina required to continue a startup against the emotional, social, physical, etc. drains can be tough to overcome.

Co-Founders/ Trusted Mentors Can Limit the Risk.

I'm not a fan of being a one-man band (solo-preneur). I'm somewhat doing it now with a new idea (I'll share later), but it's a long, lonely road. Being highly passionate and with a "ready, fire, aim" mentality (I'm calling it RFA from now on) doesn't quite let me bounce ideas or have a great yin to my yang. Especially when it comes to having a technical partner, I'm nowhere as productive. My co-founders at

Body Boss

always gave great feedback, and there was always at least one person who played devil's advocate. This really enabled the team to bounce ideas and think customer-oriented, design-focused, etc.

Passion Gives You Some Serious Freedom and Creativity.

Like in my more recent passionate outburst, it can be hard for me to contain. It comes from a deep place within, and sometimes, that's a really great thing. It can be highly inspiring for others while also incredibly liberating for you. Most people tend to hold back what they say or perhaps lack the words to put their thoughts into words (or actions). Being able to share can be an amazing way to share with others how you really feel. As a leader, this can be a powerful motivator.

I admit – I don't always KNOW what I'm doing, but I BELIEVE in what I'm doing.

True story. Building Body Boss, for example, was a great learning experience. I didn't necessarily have "formal" sales practice in the past, but I could really

feel

what needed to be done. Everything from building and managing the pipeline to creating campaigns for outreach (to be known later as "drip marketing") was all bore out of feeling. I'm certainly a man of conviction!

Don't Overwhelm Others With Your Passions!

Winston Churchill once said, "If I had more time, I would have written a shorter letter". As I write my blog posts and crazy emails, I realize that I can be incredibly intense with how much I write. In fact, I've been called intense by a fair share of people. Oftentimes when I write a lot, it's because I just sat down and started tip-tapping on my keyboard. If I take a little time out to think and let things digest, my words can be more concise and much easier to consume for the reader. In face-to-face settings, I need to work on listening more than speaking, even if it's a passionate subject. Read: I should practice brevity and "passing the stick".
Reflecting on my past, it's clear how passionate I can get, and how they can quickly lead me down many paths. However, it's important to temper those passions and that "ready, fire, aim" mentality with the right balance of conciseness and analytics. Analytics meaning being able to think holistically about areas and critically. Till then, I'll need to also remember what my triggers are and put in the right stop-gates to mitigate sending crazy-long letters at 2AM even if they're well-received. *phew* Write to the right audience! Or more generically, know your audience!
What are your thoughts about being passionate and the "ready, fire, aim" mentality? How would you practice a little patience and stem off potentially long diatribes to the wrong people?
http://www.daryllu.com/wp-content/uploads/2018/10/entrepreneurial-ninja_logo_sm.png
0
0
Daryl Lu
http://www.daryllu.com/wp-content/uploads/2018/10/entrepreneurial-ninja_logo_sm.png
Daryl Lu
2014-10-08 11:22:00
2020-12-09 10:18:04
Entrepreneur's Dilemma: Ready, Fire, Aim… Wait, Hold! No… go!